Prince of Persia: The Lost Crown is a highly anticipated 2D action-platformer title that promises to bring back legendary gameplay mechanics that made the franchise popular, such as the Time Powers. These Time Powers are special abilities and form the defining feature of the series. It is a core gameplay mechanic while tackling enemies and solving puzzles.
The upcoming game has already made several appearances in various showcase events spread across 2023, including the Summer Game Fest and the 2023 Ubisoft Forward presentation.
Prince of Persia: The Lost Crown is set for release on January 18, 2024, and is already available for pre-order across several platforms.

" class="promoted-img" loading="lazy" width="1440″ height="220″ alt="fortnite-promotional-banner" />

This article has everything you need to know about pre-ordering the game, including the editions, prices, and platforms.
---
How to pre-order Prince of Persia: The Lost Crown
To pre-order Prince of Persia: The Lost Crown, all you need to do is visit the official game stores for Microsoft and PlayStation, as well as the Epic Game Store and the Ubisoft Store. It's worth noting that pre-orders bring with them tons of additional gameplay content and exclusive rewards.
You should keep an eye on retailers like Amazon Store and Epic Games Store for the availability of the title's physical versions if you prefer a tangible copy.
The game can be ordered on various platforms, including:
PlayStation 5
PlayStation 4
Xbox Series X/S
Xbox One
Nintendo Switch (Yet to be released, wait for further updates)
PC (via Epic Games Store and Ubisoft Store)
---
Prince of Persia: The Lost Crown editions and prices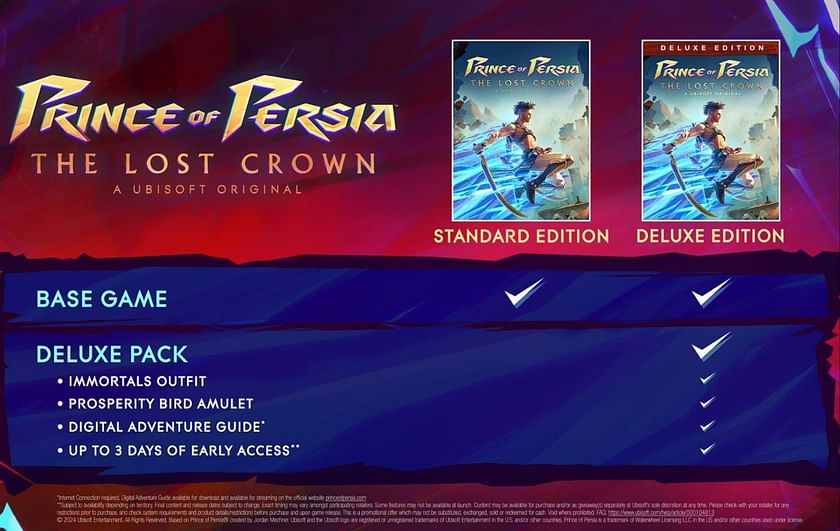 Thus far, only two pre-order versions of Prince of Persia: The Lost Crown have been announced. These are the Standard Edition and the Deluxe Edition. Notably, both editions come with the 'Warrior Within' outfit for the main protagonist, Sargon.
1) Standard Edition
Available at $49.99, this edition only includes the base game, without any additional bonuses or early-access content.
2) Deluxe Edition
Priced at $59.99, this is the version that you should definitely pre-order as it not only grants access to the base game but also provides a range of extra content, including an Immortals Outfit, a Digital Adventure guide, Prosperity Amulets, and more. Along with them, you will also get a three-day early access trial.
---
That's all you need to know about the release date and availability of the upcoming Prince of Persia title. Follow Sportskeeda for more news on upcoming games and to stay updated with all the happenings in the gaming world.
Edited by Rachel Syiemlieh