Victor Wembanyama is already looking forward to winning a championship with the San Antonio Spurs. Wembanyama is the consensus first overall pick in the 2023 NBA draft, and the Spurs just won the right to select him following the lottery.
In an interview with ESPN's Brian Windhorst, who personally flew to France, Wembanyama discussed his plans once he gets into the NBA. He put the league on notice already by saying that he wants to win a championship as soon as possible.
"My heart's beating. I got everyone I love around me," Wembanyama said. "It's really a special moment I'm gonna remember for the rest of my life. … I'm gonna make everything to win as many games as possible. I'm trying to win a ring ASAP, so be ready."
Victor Wembanyama spent the past season with Metropolitans 92 in the French league. Wembanyama averaged 21.6 points, 10.5 rebounds, 2.5 assists and 3.1 blocks this season, leading his team to the second seed heading into the Pro A playoffs.
Wembanyama also shoot the ball at a 46.8% clip from the field, including 28.3% from beyond the arc. However, it was his defense that really stood out. He also missed the NBA Draft Combine in Chicago due to committments with Metropolitans 92.
Also Read: What song was Ja Morant listening to? NBA YoungBoy's music trolled online in wake of IG gun flashing incident
---
Victor Wembanyama to follow footsteps of Tim Duncan, a couple of French legends in San Antonio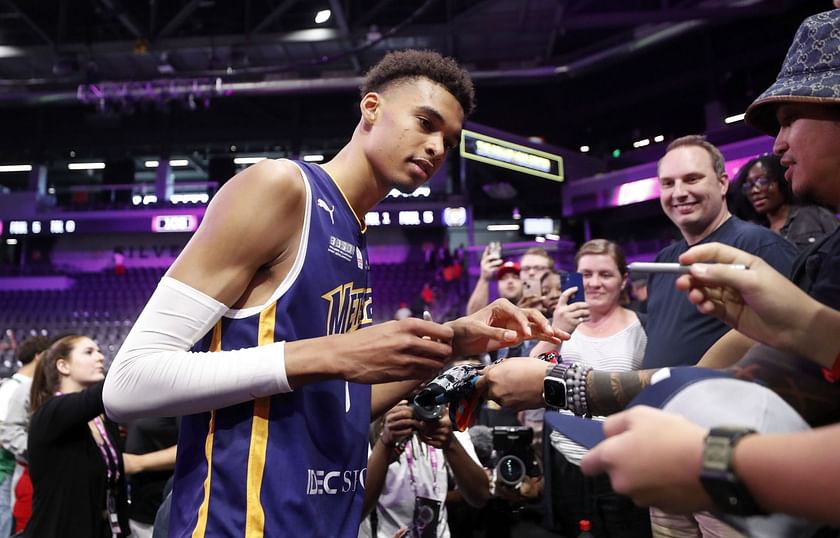 Victor Wembanyama is expected to get picked first overall by the San Antonio Spurs in this year's NBA draft. Wembanyama has a blueprint to follow when he starts his career with the Spurs.
San Antonio drafted Tim Duncan with the No. 1 pick in the 1997 NBA draft. Duncan went on to become the greatest player in Spurs history. He won five NBA championships, teaming up with the likes of David Robinson, Tony Parker, Manu Ginobili and Kawhi Leonard over his career.
Duncan flourished under the guidance of head coach Gregg Popovich, who will look to mentor Wembanyama before his inevitable retirement. The French star can also use guidance from Parker and Boris Diaw, who are both from France and played for Popovich.
Wembanyama will be joining a very young San Antonio Spurs team that include players such as Keldon Johnson, Tre Jones, Devin Vassell and Jeremy Sochan. That's a pretty nice core for San Antonio as they head to the next phase of their rebuild.
There is going to be a lot of pressure on Wembanyama, considering all the hype surrounding him ahead of the draft. It will be interesting to see if he can already lead the Spurs to the postseason since he wants to win a championship as soon as possible.
Also Read: Why is Ja Morant in trouble for having a gun? Reason behind NBA suspension leaves internet users skeptical
Edited by Juan Paolo David