Fernando Tatis Jr. sure loves being the new villain of Major League Baseball.
The San Diego Padres outfielder missed the entire 2022 season after suffering an injury from a motorcycle fall, but right when he was set to return, he was suspended 80 games for performance-enhancing drugs.
Tatis returned earlier this year, but for the remainder of his career, he will be taunted. That certainly was no different in the Bronx on Friday night.
CLICK HERE FOR MORE SPORTS COVERAGE ON FOXNEWS.COM
In the Padres game in New York against the Yankees, the right field Bleacher Creatures hit Tatis with the long taunt of "steroids."
Most players would ignore it and probably hate it – but Fernando Tatis Jr. is not most players.
The star outfielder seemed to love every second of it and acted as a conductor to the jeers.
Oh, and Tatis wasn't done there – he hit a moonshot into the upper deck, gave an epic bat flip, and hit an imaginary jump shot rounding third base in San Diego's 5-1 victory in the Bronx.
This isn't the first time Tatis has entertained the taunts. When Chicago Cubs hit him with a "He's on steroids" chant, he actually danced to it.
Tatis said he "inadvertently" took a medication that contained Clostebol, a banned substance, as he was treating a case of ringworm.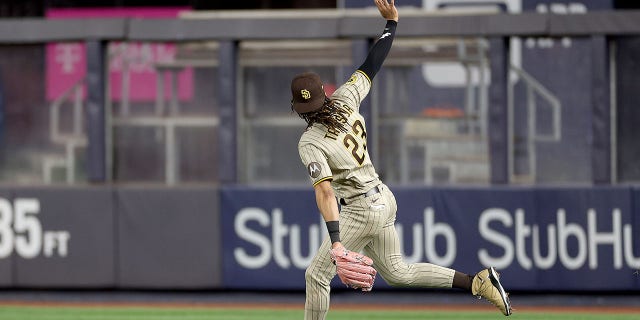 METS PLAYERS RIP MARCUS STROMAN FOR TAUNTING HIS FORMER TEAM ON MOUND: 'SHOW SOME RESPECT'
"I should have used the resources available to me in order to ensure that no banned substances were in what I took. I failed to do so," he said in a statement.
Tatis said he initially appealed the suspension, but "I have realized that my mistake was the cause of this result, and for that reason I have decided to start serving my suspension immediately.
"I have no excuse for my error, and I would never do anything to cheat or disrespect this game I love," he added.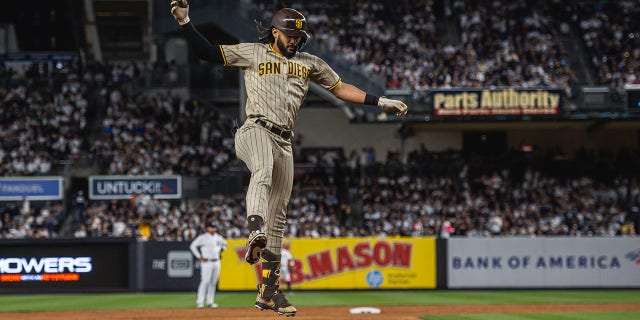 CLICK HERE TO GET THE FOX NEWS APP
Tatis signed a 13-year, $340 million deal before the 2021 season that was the third-most lucrative deal in MLB history at the time. Francisco Lindor surpassed him by $1 million before that season started, and Aaron Judge's nine-year, $360 million deal this offseason also beat Tatis' number, and teammate Manny Machado signed a $350 million extension before Opening Day.
Despite their wild signings, the Padres are just 24-27 and in fourth place in the NL West.