KARACHI:

A total of 87 athletes representing Special Olympics Pakistan (SOP) participated in the opening ceremony of the Special Olympics World Games in Berlin on Saturday.
The Games will last for eight days, concluding on June 25.
At least 70,000 athletes from 170 countries are participating in 24 disciplines at the multi-sport event.
Pakistan has sent 54 male and 33 female athletes, who will be competing in 11 disciplines, including tennis, swimming, athletics, field hockey, futsal, boccia, badminton, cycling, powerlifting, table tennis, and basketball.
Pakistan's competitions will start from June 20.
Athlete Sana, who comes from Mirpurkhas, had been selected as one of the seven torchbearers by the organisers. She represented Pakistan among the seven countries that had the honour of lighting the torch at the Games, according to the reports.
Sana, like her fellow contingent members, is at the event through her talent and determination on the international platform.
On Saturday, according to the updates by the SOP social media page, powerlifters were assessed before the Games, whereas cyclists also tested the track. The athletes are beaming with confidence and joy as they prepare to prove their mettle at the Games.
In one of the videos released for the press, 100m sprinter Minahil could be seen with SOP athletics coach Nuzhat Rubab. They are excited about the Games and believe they will make the country proud.
Rubab has been working with SOP since 1997. She said that Minahil hailed from Lahore and she would also compete in the long jump. "Minahil came to us when she was really young, she was eight years old, and she came through our young athletes' programme," said Rubab.
"We have been training her for years, and we have given her camps and many coaches have been working hard with her. We are hopeful that we will deliver strong performances."
Nuzhat also asked Minahil how she was feeling about her participation in the Games.
"I feel great," said Minahil. "I never thought I would come this far and represent the country. I want to make my country proud and make sure Pakistan makes a mark here. I am very happy to be here."
Minahil's face was glowing with delight as she looked on with a big smile just as she went on to give a message to other athletes and aspiring sprinters.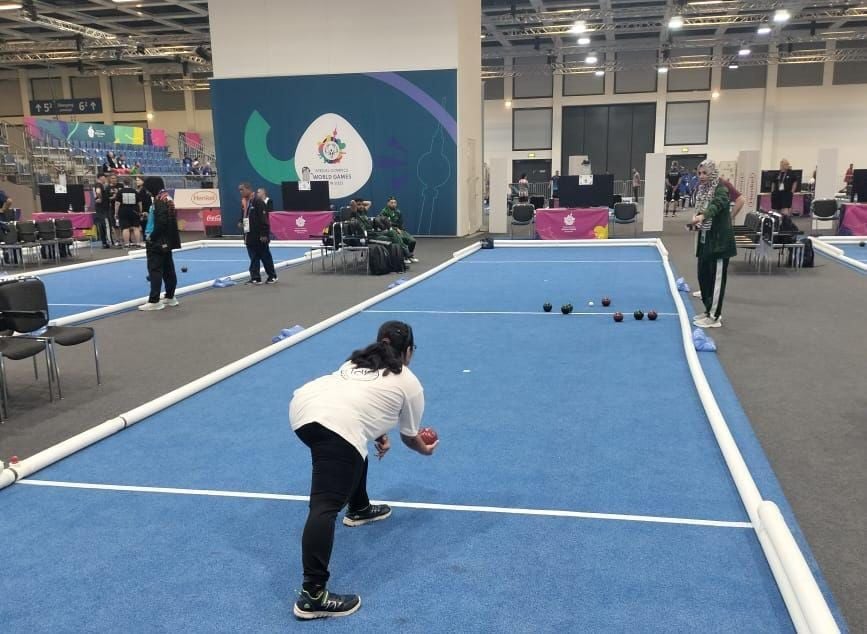 "Come train with me. I just want to tell them that they should practice regularly so that they can also one day run the 100m race and win medals. I want them to train hard so that they can come and participate in the Games as well," said Minahil.
Nuzhat added that all the athletes had come to this stage through hard work and determination.
Before the Games began, Pakistan's Ambassador to Germany Dr Mohammad Faisal also hosted a reception for the athletes on June 16 and said that it was a privilege for him and his staff at the embassy to welcome the contingent. "The entire nation is proud to see them participate on international stage," he said.