Denver Nuggets star Nikola Jokic continues to make history in the NBA Finals, and now his running mate is getting in on the action. 
Denver took a 2-1 lead over the Miami Heat Wednesday night with a 109-94 Game 3 victory as Jokic and Jamal Murray put on a show. 
The teammates became the first players to record 30-point triple-doubles in the same game – playoffs or regular season – in NBA history. 
KYRIE IRVING REACHED OUT THE LAKERS' LEBRON JAMES ABOUT JOINING HIM IN DALLAS: REPORT
"By far, their greatest performance as a duo in their seven years together," Denver head coach Mike Malone said, according to ESPN. 
Murray finished the night with 34 points, 10 rebounds, and 10 assists, while Jokic put up a 32-21-10 stat line. 
Jokic is the first player to have a 30-20-10 effort in an NBA Finals game but chose to focus on the ultimate goal after the win.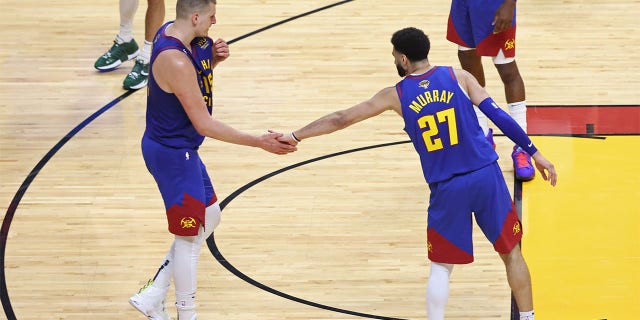 "To be honest, not much. I'm just glad that we won the game," Jokic said when asked about the history made Wednesday night. 
CLICK HERE FOR MORE SPORTS COVERAGE ON FOXNEWS.COM
"It was a big one for us because they won in our arena. We just didn't want to go down 2-1."
Jokic is now the seventh player to have two triple-doubles in the same finals. 
"I think it speaks for itself, bro," Murray said of Jokic's stat line. "How many times does he have to do that for you guys to believe in his game or our game or whatever?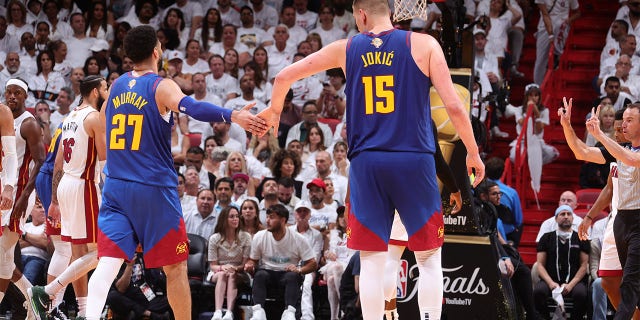 CLICK HERE TO GET THE FOX NEWS APP
"Like, he's doing it, making it look so easy, good shooting, low turnovers, two blocked shots, got great hands, great communication in the pick-and-rolls, and I.Q. and all that. We're running out of things to say."
Miami shot just 37% from the field, falling behind by as much as 21 points in the fourth quarter. 
The Heat will look to even the series on Friday in Game 4.