The Denver Nuggets were the heavy favorites to win this NBA Finals, and they are showing why.
The Nuggets took a 3-1 series lead on Friday night with their 108-95 win over the Miami Heat.
Denver is now one win away from their first NBA title in franchise history.
The Nuggets led by four at halftime but opened up the third quarter on a 19-10 run to take a 13-point lead, their largest of the night up to that point. Miami was able to cut their deficit back down to six points, but Denver closed the third on another 12-5 run, regaining their 13-point lead. They closed the third up 86-73.
CLICK HERE FOR MORE SPORTS COVERAGE ON FOXNEWS.COM
The Heat started the fourth quarter in desperation mode, though, and went out to an 8-0 run to cut their deficit down to five points. However, that was the closest they got, and Denver went on another run to ice it.
With 6:34 to go, Miami trailed by six, but Denver followed up with a 17-6 run over the next five minutes to lead by 17, now the largest margin of the night.
Denver's Aaron Gordon was the game's leading scorer with 27 points on 11-of-15 shooting and 3-for-4 from three. Nikola Jokic put up 23 points and grabbed 12 boards, while Bruce Brown scored 21 points, 11 of them coming in the final 5:07. 
As a team, Denver knocked down half of its three-pointers (14-for-28) – Miami hit just eight of 25 (32.0%).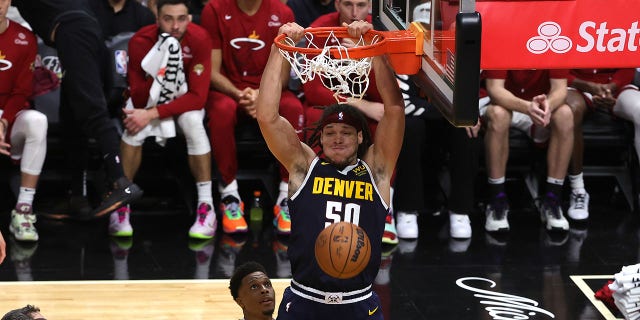 SHAQUILLE O'NEAL SPOTTED AT DINNER WITH MODEL BRITTANY RENNER AT SAME SPOT AS WEDDING WITH EX-WIFE
Jimmy Butler (25) and Bam Adebayo (20) combined for 45 of Miami's 95 points. 
The Nuggets would be just the fifth first-time champion of the 21st century, and the first since the 2015-16 Cleveland Cavaliers.
Ironically enough, if the Heat come back to win the series, they'll be just the second team in the Finals – joining that Cavs team – and the first to do so in any playoff series since the team they are trying to come back against did it twice in 2020.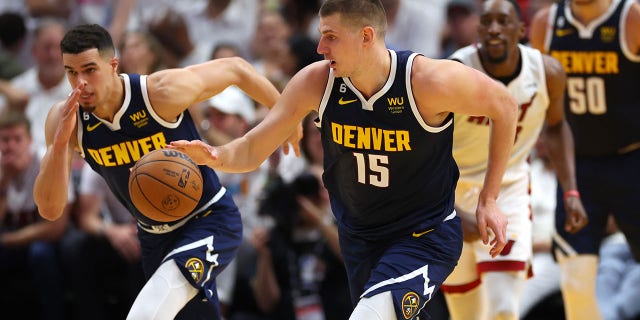 CLICK HERE TO GET THE FOX NEWS APP
Nuggets fans will have the chance to see their team hoist the Larry O'Brien Trophy on their own home court on Monday night, as Game 5 is back in Denver.