The Denver Nuggets made the best of the franchise's first ever NBA Finals game, dominating the Miami Heat, 104-93, to take Game 1 on their home court. 
While both teams appeared to have some jitters to start this game, the Nuggets settled in quickly with the Heat failing to do so at the same pace. 
By the time the first half was complete, the Nuggets went into their locker room with a 17-point lead thanks to highly efficient offense from the likes of Jamal Murray and Nikola Jokic, the two stars that make this team run. 
CLICK HERE FOR MORE SPORTS COVERAGE ON FOXNEWS.COM
Murray was the focal point of the scoring for the Nuggets to start this game, going 8-of-12 from the field with two three-pointers for a total 18 points to lead the way in the first half. 
He would finish the game with 26 points as well as 10 assists and six rebounds. 
There was a large gap to start this game before Jokic even attempted a field goal, as he was dishing the ball left and right to his teammates. He still managed a double-double at the half with 10 assists and 10 points. 
ADAM SILVER SAYS NBA MADE DECISION ON JA MORANT'S FIREARM INCIDENT; WAITING UNTIL NBA FINALS ARE OVER
Once the second half came around, Jokic started showing off his shooting ability, going 8-for-12 for 27points on the night with 10 rebounds and 14 assists for yet another triple-double this postseason. Jokic has six triple-doubles in his last seven playoff games this year. 
The Heat also seemed to have trouble defending Aaron Gordon and Michael Porter Jr. in the first half. Miami kept switching off screens which led to mismatches for the Nuggets' forward to exploit. 
Gordon had 14 points, going 7-for-9 in the first half with five rebounds as well. Porter also added 10 points and seven rebounds. 
Miami was able to get the Nuggets' lead down from 24 at one point in the second half to nine, but the effort wasn't enough as Denver regrouped and finished their double-digit win.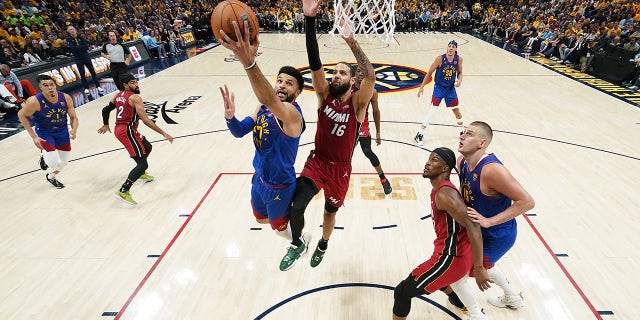 It was an off night for Miami's star Jimmy Butler, who went 6-of-14 from the field for 13 points. Max Strus and Caleb Martin also had dud performances, going a combined 1-of-17, while Strus didn't make any of his 10 shots, nine of which came from three. 
As a team, the Heat have been the best postseason team in three-point percentage in these playoffs, but they shot just 33.3% from downtown. They also only had two total free throws on the night. 
JIMMY BUTLER'S NBA FINALS MINDSET IS WRITTEN ON HIS SHIRT AHEAD OF GAME 1
Not being able to hit threes or get to the line is usually a recipe for disaster. 
Bam Adebayo was the only starter that really had it going, as he went 13-for-25 from the field for 26 points with 13 rebounds and five assists. Gabe Vincent also added 19 points on 7-of-14 shooting. 
Haywood Highsmith was 7-of-10 off the bench for a surprising 18 points. He also defended pretty well, which should help with playing time moving forward in this series. Kyle Lowry had 11 points off the bench as well.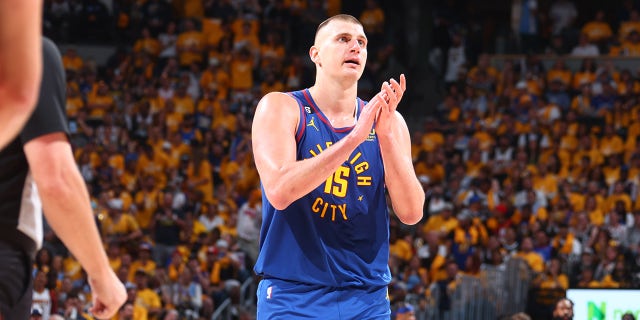 CLICK HERE TO GET THE FOX NEWS APP
Game 2 of this series will tip off in Denver on Sunday at 8 p.m. ET.