When you win the Stanley Cup, you celebrate accordingly. 
That's exactly what the Vegas Golden Knights did on Saturday, as their Stanley Cup parade went down the Las Vegas Strip with fans lining the streets following the franchise's first championship since its inception six years ago. 
But one player on the Golden Knights seemed to be enjoying the party more than his teammates. 
CLICK HERE FOR MORE SPORTS COVERAGE ON FOXNEWS.COM
William Karlsson, an original Golden Knight following the NHL's expansion draft, went viral on social media with a speech no Vegas fan will ever forget. 
He also happened to slip on the steps as the team was getting announced to the crowd, which led multiple teammates to help him up. 
Karlsson was holding a can that appeared to be an alcoholic beverage, but again, celebration was at hand and he was certainly making the best of this once-in-a-lifetime opportunity in Sin City. 
GOLDEN KNIGHTS STAR CELEBRATES STANLEY CUP WIN WITH 4-YEAR-OLD DAUGHTER 6 MONTHS AFTER SERIOUS HEALTH SCARE
When it was time for Karlsson to hold the mic, he also made the most of that chance to say everything, and anything, that was on his mind. 
It started with Karlsson starting a "Go, Knights, Go" chant while removing his shirt and throwing it into the crowd.
"So this guy, this f—ing guy, he was here day one, and I know you have been here day f—ing one," a shirtless Karlsson, talking about his teammate Jonathan Marchessault, said to the cheering crowd. 
"You guys are so amazing."
It was supposed to be an introduction for Marchessault, the Conn Smythe Trophy winner for the Stanley Cup Playoffs' Most Valuable Player. But Karlsson continued with a shot at the Arizona Coyotes. 
For what reason? We may never know.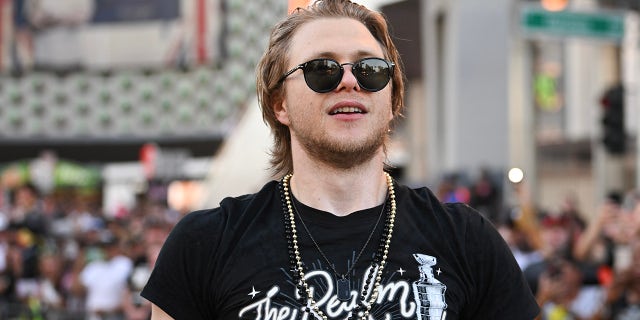 "We played Arizona in the first game and we beat the s— out of them," he said. "And I had no points, but that's OK because that year one I was pretty f—ing great. But you guys were greater. We've been up and down on this journey to the cup."
Karlsson said, "We've been waiting for six long years for this guy to be MVP, Jonathan Marchessault." 
WNBA STAR A'JA WILSON TAKES ISSUE WITH JOE BIDEN'S CONGRATULATIONS TO GOLDEN KNIGHTS
Eventually, Karlsson needed the mic taken away from him to make way for the Conn Smythe winner in Marchessault, but the forward's night wasn't over just yet. 
"Dancing Queen" by ABBA started playing over the speakers, and the Swedish-born Karlsson immediately hopped on one of the speakers to sing with the crowd. The moment also came after taking a sip out of the Stanley Cup. 
"Goodnight to Williams Karlsson and Williams Karlsson only," 8 News Now's Logan Reever wrote on Twitter. 
Over 22 playoff games between the Winnipeg Jets, Edmonton Oilers, Dallas Stars and Florida Panthers, Karlsson notched 11 goals and six assists for a total 17 points, while posting a plus-11 on the ice.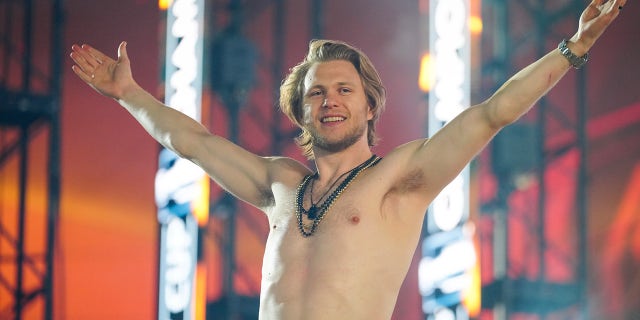 CLICK HERE TO GET THE FOX NEWS APP
He had his third-most productive year in the league during the regular season, tallying 53 points (14 goals, 39 assists) over a full 82 games.