CNN
 — 

Daniil Medvedev revealed one reason behind his incredible form this year after winning the Italian Open: new racket strings.
The Russian world No. 2 has been using a different version of Technifbre strings and said the change to his game has been "unbelievable" since making the switch ahead of the Australian Open.
He has now won five titles this year – the most in his career – and Sunday's 7-5 7-5 victory against Denmark's Holger Rune in the Italian Open final marked the first trophy he has captured on clay.
"I think the strings help me … because they are just softer so the ball goes easier," Medvedev told reporters after defeating Rune.
"Straightaway in Australia actually where I lost, with my coach we were like, 'Wow, I have the easy depth on the ball, which is amazing,'"
"In Australia, it didn't work. I was 100% doubting myself. Should I go back to the old ones, I was playing good with them? I said no, let's try more. Now it's unbelievable."
After a one-hour, 40-minute delay due to rain in Rome, Medvedev battled through a tight first set against Rune, saving two break points at 2-2 before securing the crucial break at 6-5 when he raced to the net and pounced on a drop shot.
The 20-year-old Rune responded with two breaks in the second set to take a 5-3 lead, but from there Medvedev asserted his baseline dominance and won the next four games to wrap up the win.
Having won most of his titles – including his US Open triumph in 2021 – on hard courts, victory on clay at the Italian Open is a breakthrough moment for the 27-year-old Medvedev.
Following Rafael Nadal's withdrawal from the French Open last week, the second grand slam of the calendar year is difficult to predict with World No. 1 Carlos Alcaraz and 22-time grand slam champion Novak Djokovic leading the men's singles draw.
But Medvedev, who has never progressed beyond the quarterfinals at Roland Garros, will feel confident. He had to defeat the likes of Stefanos Tsitsipas and Alexander Zverev during his Italian Open campaign and has climbed five places in the men's rankings this year.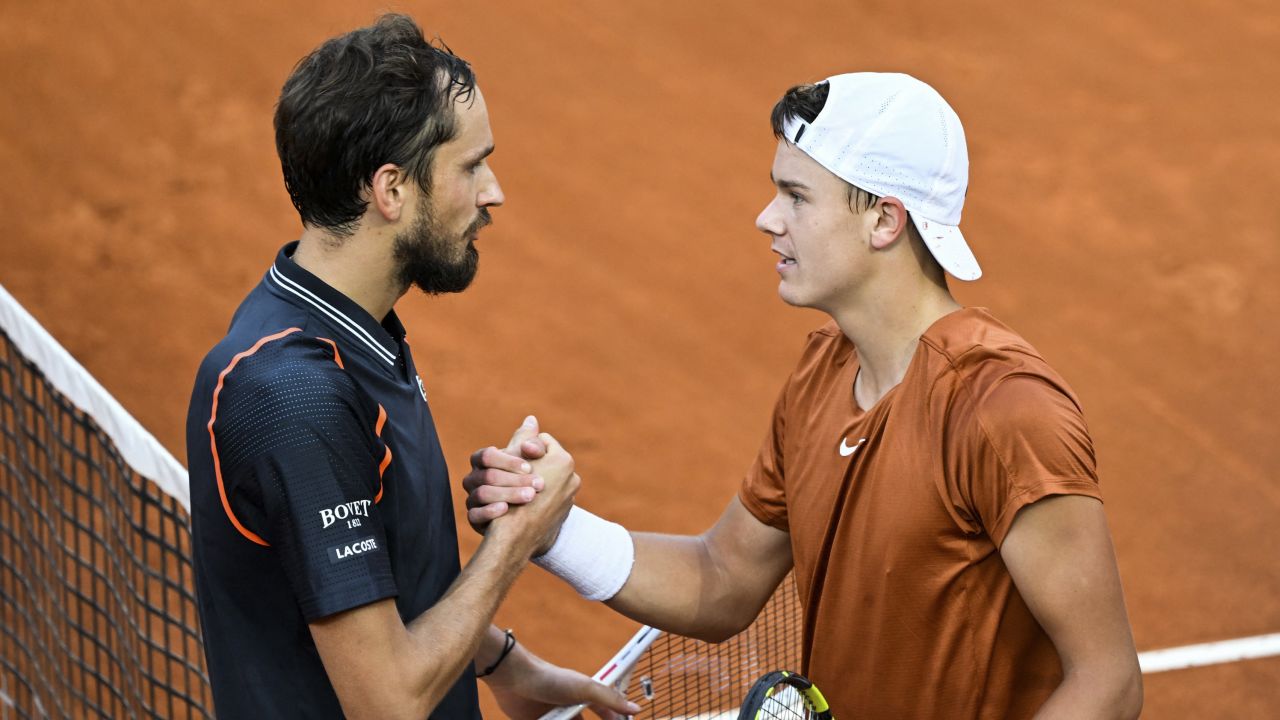 "This one is special because I didn't think it was going to be able to happen, (that I was) going to be able to make it," he said of his latest title.
"I still kind of don't believe – not that I won it, but that I played so well this week. I don't believe it. The way I played, I'm really happy. Happy to have this trophy back home in some time."
The French Open takes place from May 28 to June 11 and Medvedev, whose ground strokes look more potent than ever before, has emerged as a strong contender.