Los Angeles Chargers defensive lineman CJ Okoye got his first sack in the NFL when he took down Los Angeles Rams quarterback Stetson Bennett late in the fourth quarter of their preseason Week 1 matchup.
While this normally wouldn't be that big of a deal, the Chargers' sideline was going ballistic when Okoye wrapped Bennett's legs up and brought him to the turf.
Why? This wasn't just Okoye's first NFL sack in his first NFL game. It was his first organized football game of his entire life. 
CLICK HERE FOR MORE SPORTS COVERAGE ON FOXNEWS.COM
Yes, you read that correctly.
Okoye hails from Nigeria and is a part of the NFL's International Player Pathway program that allows athletes from various countries around the globe to try out for franchises around the league for a spot on their 53-man roster (or practice squad) during training camp. Okoye also participated in the NFL London Combine.
RAMS' STETSON BENNETT EARNS PRAISE AFTER PRESEASON DEBUT VS CHARGERS
He's certainly a long shot to make the roster when camp breaks before Week 1, but Okoye's athleticism was on full display when he was rushing the passer. He ran a stunt to perfection, rushing to the right side of the offensive line.
As Bennett was scrambling out of danger, he didn't see Okoye barreling in behind him. A perfectly timed dive and wrap of the legs secured the sack.
His Chargers teammates were waving towels, jumping up and down and turned the sideline into a party when he finally got back to it.
"It's a historic performance," Chargers head coach Brandon Staley said after the game of Okoye. "This guy, as you guys know, his story is remarkable. The International Pathway Program, this guy's never played in a game. For him to go in his first NFL game to have a sack, our guys said if he gets a sack we were going to get a 15-yard [celebration penalty]."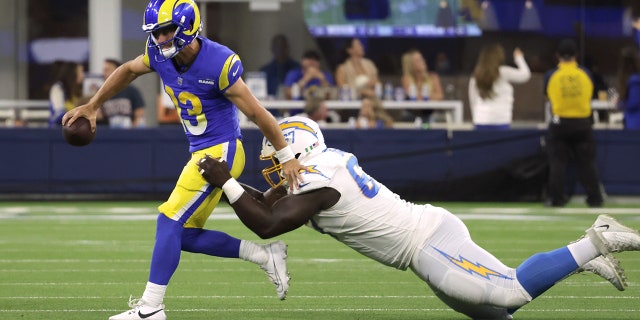 "You saw that sideline," he continued. "That's what the NFL's about, great stories like that – game ball for CJ and a memorable moment for our whole team."
Okoye's moment caught the eyes of many, including New York Giants great Osi Umenyiora, who commented on his moment.
CHARGERS' JOEY BOSA REVEALS MASSIVE CALORIE INTAKE DURING OFFSEASON BULK: 'IT'S NO FUN A LOT OF THE TIME'
"First football game of his entire life. He gets a sack. You can't make this stuff up. @chargers Sideline going crazy. Only in the @NFL," Umenyiora wrote on X, formerly Twitter.
The Chargers ended up beating the Rams big, 34-17, to secure their first victory of the preseason.
As roster battles continue to unfurl and get tougher by the week, Chargers fans will definitely be keeping a sharp eye on what Okoye can do moving forward.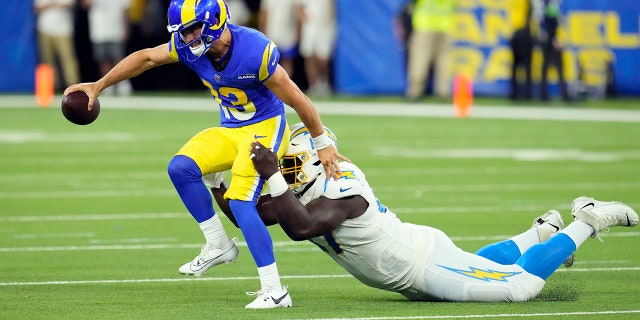 CLICK HERE TO GET THE FOX NEWS APP
It doesn't get much better than a sack in your first game ever.