An interesting moment occurred during the Toronto Blue Jays' broadcast on Monday night in a game lost to their division rival, the New York Yankees. 
As he has shown in the past at Rogers Center, Aaron Judge can hit a ball a country mile, which were the exact words play-by-play announcer Dan Shulman used when he belted his second home run of the game in the top of the eighth inning, this one on a slider off Jay Jackson, who was recently called up from Triple-A.
During the at-bat, Shulman and his color commentating counterpart, Buck Martinez, recognized something unusual in their eyes with Judge at the plate. While he was waiting for the pitch, he appeared to be glancing toward his dugout.
CLICK HERE FOR MORE SPORTS COVERAGE ON FOXNEWS.COM
A slow-motion video replay confirmed it. 
"Alright Buck, so you and I looked at each other at the same moment right when we saw this three pitches ago. What is that?" Shulman asked. 
"Where's he looking?" Martinez chimed in. "Really, really unusual."
BLUE JAYS' CHRIS BASSITT SLAMS TABLET IN TANTRUM AFTER BAD FIRST INNING VS MARINERS
Shulman continued, "You don't want to go throwing allegations around without knowing, but…"
Shulman is obviously talking about the potential of cheating on Judge's part here, and though Martinez did not suspect it, he also did not think that Judge's move here could have allowed him to see where the catcher is setting up behind him. 
"I've had guys look back when I was catching and you obviously could see it and he couldn't see the catcher with the way he was looking right there," Martinez said.
At that moment, Jackson hung a slider  — his third straight slider to Judge in the at-bat – on a 3-2 count that Judge "pummeled," in Shulman's words to deep center field. The ball traveled an estimated 462 feet to put the Yankees up 7-0. They would eventually win 7-4 to open the series. 
As Judge rounded the bases, Shulman and Martinez continued.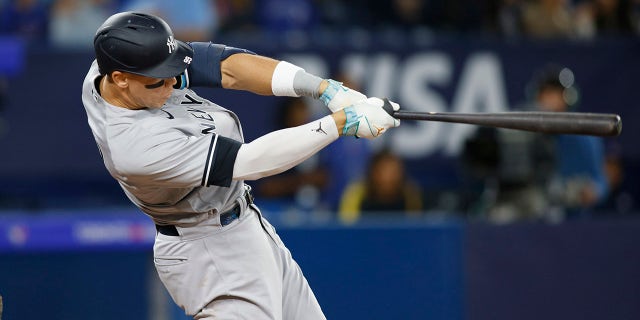 "Third time this season that Aaron Judge has hit two home runs in a game," Martinez said. "And once again, he's looking at something and then the next move is that powerful swing and he blasts one to center field. I haven't seen that before with him."
"Do you think he's trying to see if Alejandro Kirk is set up away?" Shulman questioned. "You know, it's more likely to be a slider if Kirk's in, and if he can't see Kirk it's more likely to be a fastball?"
YANKEES FAN SNATCHES FLY BALL FROM ATHLETICS OUTFIELDER; UMPIRES RULE IT HOME RUN
Martinez added, "But the way his head was, I'm not sure he could see the catcher or anything like that."
After the game, Judge was questioned about the situation, and he responded with reference to his manager, Aaron Boone, being tossed earlier in the at-bat after a slider that was low in the zone was called for a strike by home plate umpire Clint Vondrak. Boone was tossed for arguing balls and strikes. 
"A lot of chirping from our dugout, which I really didn't like in the situation where it's a 6-0 game and I know Boonie got tossed," he told reporters. "I was trying to save Boonie by calling timeout like, 'Hey, hold up here. Let me work here.' I was kinda trying to see who was chirping in the dugout. 6-0, Boonie got tossed, so let's go to work now."
Judge added that teammates didn't stop talking to Vondrak after their manager was ejected, which led to him glancing once more. 
"I'm kinda looking like, 'Who's still talking here?' It's 6-0 and our manager got tossed. He did his job, so let's go back to playing ball."
Judge ended by saying that it "hopefully won't happen again."
Since returning from the injured list, Judge is 8-for-25 in May with four homers and 10 RBI over seven games, which is what the Yankees have needed since their first month ended with them in last place in a tough AL East division.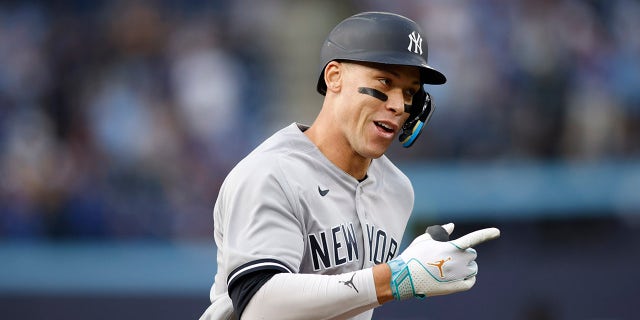 CLICK HERE TO GET THE FOX NEWS APP
Judge's first home run came off Blue Jays ace Alek Manoah in his first at-bat of the game.