Australian swimmer Mollie O'Callaghan picked up a knee injury about five weeks ago, described as anything from a dislocation to a simple tweak. She said it slowed her some in practice, and modified her training schedule.
But heck, what's a little injury matter.
The 19-year-old O'Callaghan broke the world record on Wednesday in the 200-meter freestyle at the world championships, clocking 1 minute, 52.85 seconds to erase Federica Pellegrini's mark of 1:52.98 — the oldest women's record set in 2009 in the fast-suit era.
CLICK HERE FOR MORE SPORTS COVERAGE ON FOXNEWS.COM
"I'm just really shocked," O'Callaghan said. "I was just expecting to have fun tonight and whatever I did I was going to be really happy. To come away with a world record is just amazing."
She also picked up a check for $30,000, which goes to any record setter at this year's worlds.
O'Callaghan overtook Australian teammate Ariarne Titmus — she set a world record in the 400 free on Sunday — in the final 20 meters. Titmus finished in in 1:53.01 and 16-year-old Summer McIntosh of Canada took bronze in 1:53.65.
Here's what O'Callaghan said she told herself over the last 50.
"Right now I just need to go. I don't care how hard it is or if it hurts. I'm just going to push and if I come last and completely die, then that's all right. At least I gave it a crack," she said.
USA VS. THE NETHERLANDS: EVERYTHING YOU NEED TO KNOW ABOUT WOMEN'S WORLD CUP MATCH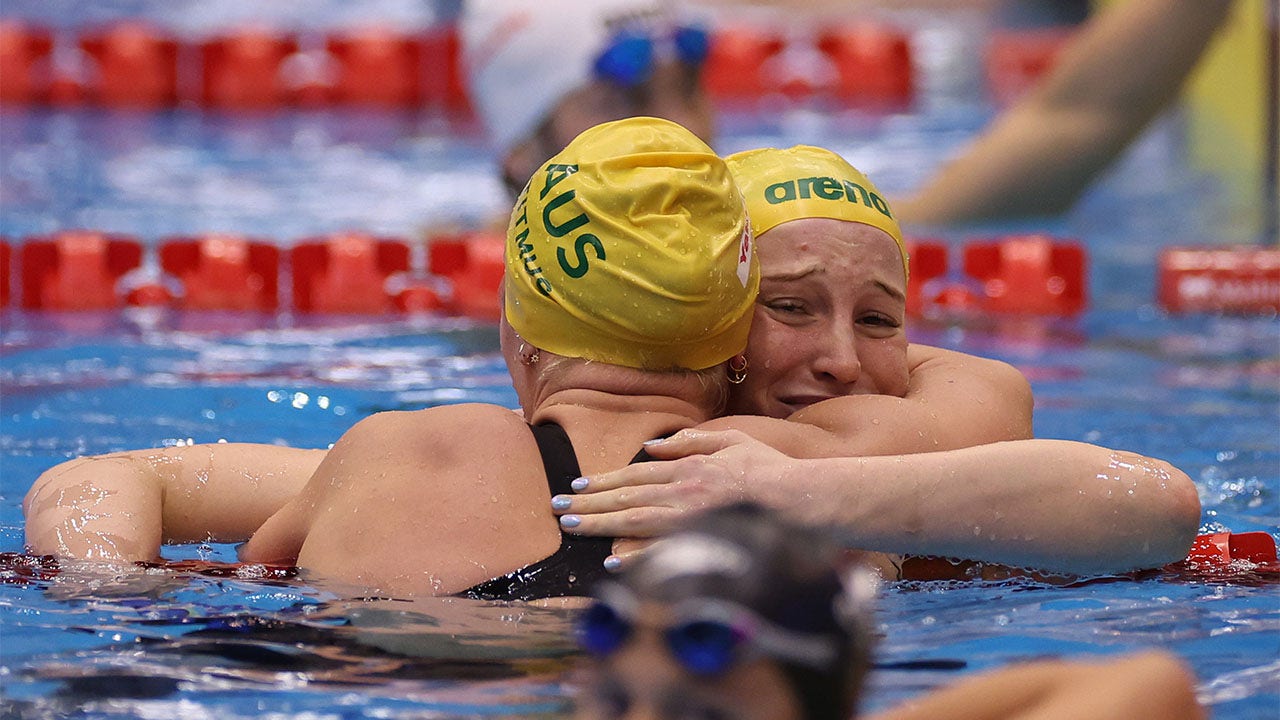 It took O'Callaghan a few minutes after the race to compose herself and digest the moment.
"I was a wreck afterwards," she said. "I couldn't really explain it — those tears of happiness, very mixed emotions. I'm just so proud of myself to do that. It was just such an unexpected moment."
Titmus did not hold back.
"To be completely honest, I wanted to win that," the 22-year-old Titmus said. "I thought I had a great swim in me — and that was a great swim. If not winning, it's great to have someone from Australia on top of the podium."
It was a personal-best time, but not fast enough.
Leon Marchand, a 21-year-old Frenchman who figures to be the face of next year's Paris Olympics, added the men's 200 butterfly gold to the one he won in the 400 IM on the opening day when he broke Michael Phelps' last individual world mark. Marchand took the lead at 80 meters and powered home in 1:52.43.
BILLS' DAMAR HAMLIN A 'FULL GO' AT TRAINING CAMP NEARLY SEVEN MONTHS AFTER CARDIAC ARREST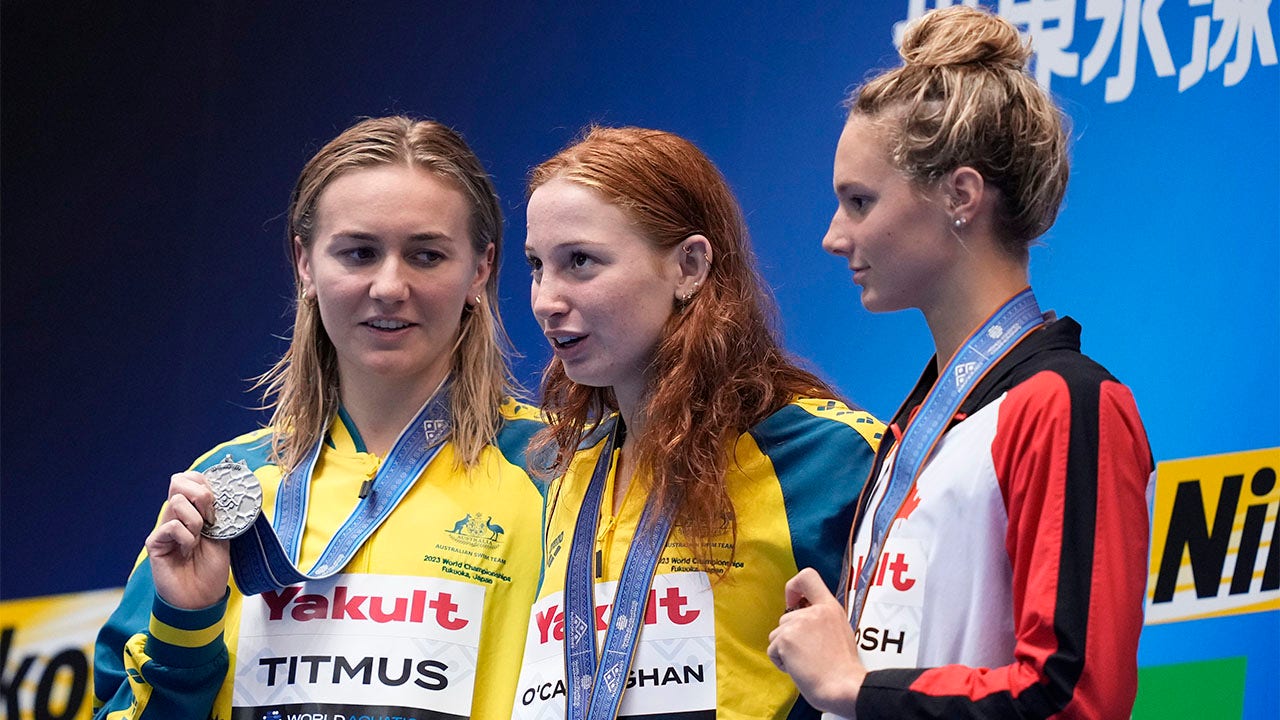 Krzysztof Chmielewski of Poland took silver in 1:53.62 and Tomoru Honda gave host Japan its second bronze medal of the worlds in 1:53.66.
Kristof Milak of Hungary, the current world-record holder in the 200 butterfly and gold medalist at the Tokyo Olympics, is not competing at this year's championships for what he has called mental health and physical reasons.
"I'm just trying to enjoy the moment and keep going," Marchand said. "It's been very good the past few days."
Ahmed Hafnaoui of Tunisia won the men's 800 freestyle in 7:37.00, pushing Sam Short of Australia into second at 7:37.76. Bobby Fink of the United States took bronze in 7:38.67.
It was sweet for Hafnaoui, the 400 Olympic champion, who was beaten at that event earlier in this meet by Short.
"The silver in the 400, I think that was part of the win," said Hafnaoui, who has been training since last year at Indiana University in Bloomington. "It's like too much adrenaline when you see all these guys next to you battling for the gold."
CLICK HERE TO GET THE FOX NEWS APP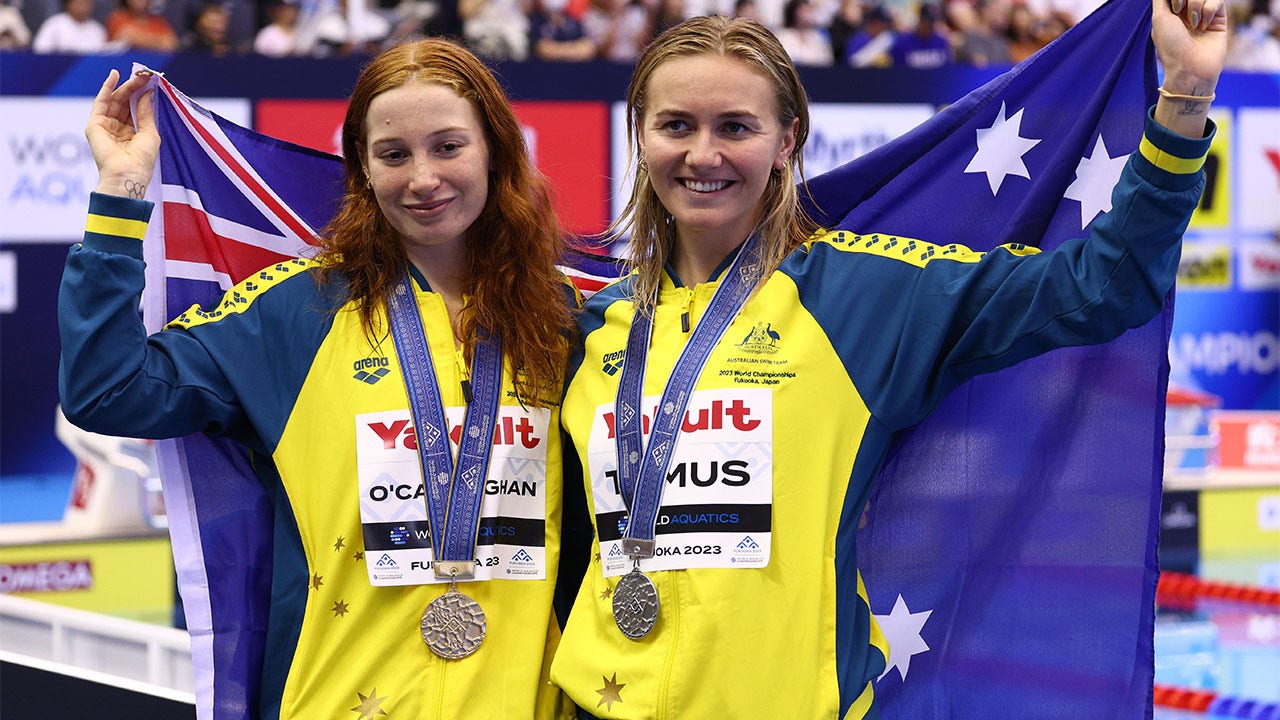 Qin Haiyang of China won his second gold, taking the 50 breaststroke to go with the 100. Nic Fink of the United States took silver in 26.59 and Sun Jiajun of China got bronze in 26.79. The 50 breaststroke is not an Olympic event.
China also won in the 4×100 mixed medley relay behind a strong leg from Qin, taking gold in 3:38.57. Australia got silver in 3:39.03, with the United States rounding out the podium with bronze in 3:40.19.
The top three finishers in the relay automatically qualified for next year's Paris Olympics.